Flamenco Guitars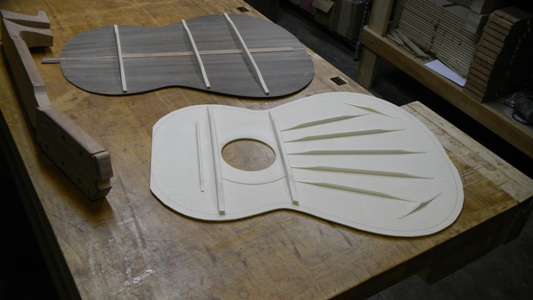 In a guitar shop in Madrid, I once played a flamenco guitar made by Santos Hernández, who is considered to have been the greatest builder of flamenco guitars ever. It was a small, very light-weight guitar, apparently not being very well taken care of--it was kept standing on the floor leaning against a wall. But I will never forget the extraordinary sound and playability of that guitar: It was so responsive that it seemed to almost play itself. That responsiveness has been the ideal towards which I strive in my flamenco guitar building.


Slide Show of a Typical Ethan Deutsch Blanca
Slide Show of a Typical Ethan Deutsch Negra
My flamenco guitars are made with either cypress back and sides for blancas or Bolivian rosewood back and sides for negras. Occasionally I use other special woods for the back and sides such as birds-eye maple or Brazilian rosewood. I use Engelmann spruce for soundboards and bracing, Spanish cedar for necks, ebony fingerboards, and Bolivian rosewood for bridges and head plates. I have made a variety of rosette designs and am constantly inventing new ones. I typically use Pegheds mechanical tuners which look like traditional wooden pegs but work smoothly because they are geared inside, but any kind of tuning machines can be ordered. The scale length I typically use is 656 mm. Like the great 20th-Century luthiers Santos Hernández, Marcelo Barbero, and Domingo Esteso, I have found this scale length to be optimal for flamenco guitars. However I can use any scale length desired on a custom-made guitar. My standard neck has a nut width of 52 mm and is 60 mm wide at the 12th fret, with the combined thickness of the cedar and ebony being about 20 mm at the first fret and 21 mm at the 9th fret. Typically they are set up so that with the action at the 12th fret about 2.7 mm, the string height at the bridge is about 8 mm. I use pultruded carbon-fiber reinforcement inside the necks, where it can't be seen but prevents any warping of the neck. The finish I use is naturally colored shellac applied by French polishing.